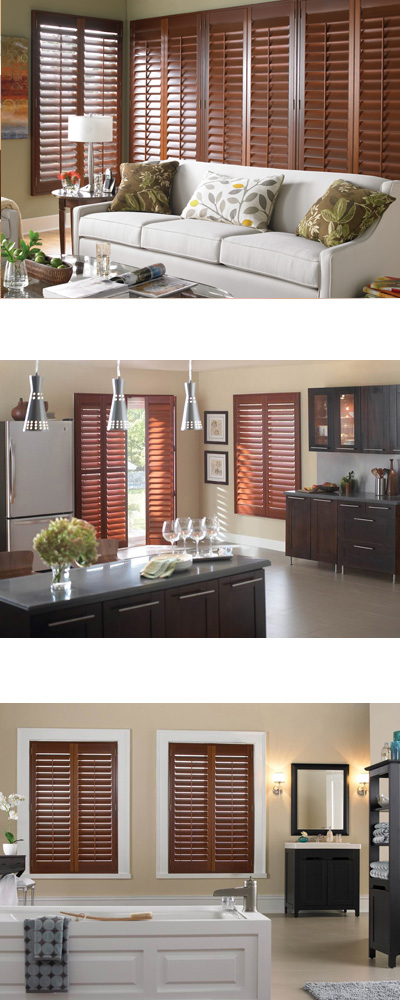 We carry several lines of Shutters including a wonderful Wood Alloy Shutter that has been created to give you the rich warmth of real wood but requires minimal maintenance. Inherently providing superior strength, durability and noticeable R Value for both summer and winter, our Wood Alloy Shutters are available in 2 1/2″, 3 1/2″ and 4 1/2″ louver sizes. You'll appreciate the design with no mouse holes enabling both tight louver closure and greater privacy. Come and see the selection of both soft neutral colours and warm wood tones.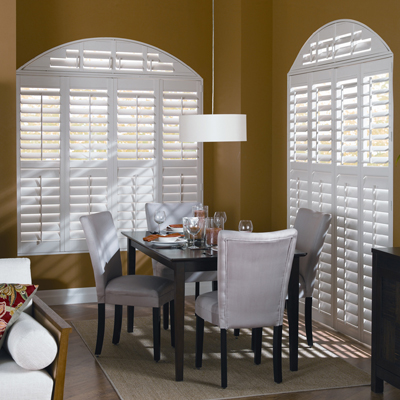 Our POLYSATIN Shutters not only are a stunning way to cover your windows; they have been engineered to meet the needs of the more difficult rooms in your home.  With all the humidity created in kitchen and bathrooms, being both water and scratch resistant, these shutters are a beautiful and practical solution.  Manufactured of the highest quality outdoor grade compounds, they will never warp, fade, peel, pit or crack.  Very easy to care for, our shutters are available in all three louver sizes of our Wood Alloy Shutter.
Both our WOOD ALLOY Shutter and POLYSATIN Shutter can be ordered with a variety of louver tilting systems with or without tilt bars.  Unlike blinds, shutters come wiithout cords for pets and children to get entangled in.  And for all those large windows and Patio Doors that open up our homes to beautiful Okanagan views, both Bi-Pass and Bi-Fold Tracking Systems are available.  For long lasting beauty and practicality, shutters are a solution for your window covering needs.