Cambria Quartz & Laminate Countertops
Beauty & Durability Made Affordable
The kitchen is the heart of your home—so give yours the care and attention it deserves. At Studio 5 Interiors, we enable homeowners of all budgets to create kitchens that are not only functional, but also stunningly beautiful.
When you step into a kitchen, the countertops are likely the first thing you notice. Replacing outdated, worn countertops is the single most impactful thing you can do to rejuvenate the look of your kitchen. We offer a variety of durable, beautiful options to suit any style.
Cambria Quartz:
We are pleased to offer the premier Cambria brand of quartz countertops. Made from pure quartz, these solid stone counters are renowned for their strength and versatility. They are even stronger than natural stone and granite, and are available in more than 100 colours and designs.
Because Cambria is non-porous, it can be used in any area and is completely resistant to moisture and stains. Best of all, it's completely maintenance-free—no sealing or polishing is ever needed.
Cambria countertops are approved for hospitals and schools.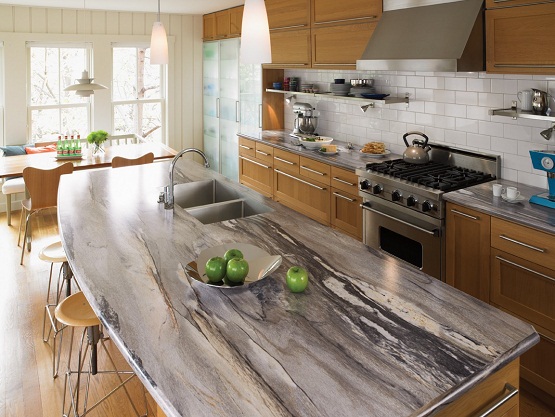 Laminate: Durable, Low-Maintenance, and Affordable
At Studio 5 Interiors, we offer the esteemed Formica brand of laminate countertops. As you can see in the above photo, Laminate has come a long way! Today's versions are just as beautiful as the more expensive granite and quartz options. With hundreds of colors and patterns to choose from, matching your kitchen's style is a breeze.
The chief advantages of laminate countertops are their value and durability. Extremely easy to clean and maintain, withstand stains and moisture. Laminate is affordable for any budget with great everyday performance.
Your kitchen's transformation starts with a single phone call. Contact us today to discuss your dream countertops.